About Us
Company Profile
Taipei Office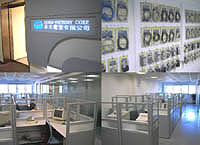 Send-Victory was founded in 1989. With over 25 years of experience, we are committed to provide our customers worldwide with the highest quality products backed with total commitment to the impeccable service. In our industry, we are revered as a quality manufacturer with integrity, quality and innovative ideas. We believe that customers always come first! Therefore, we've pride ourselves upon the success of our LEAD customer service program. We Listen, We Evaluate, We Advise and We Deliver, promptly and efficiently with focused attentiveness. We treat each customer individually with unique customized attention.

China Factory


We are tailor-made to your order and specification at all times. We listen to your needs and most willing to comply and accommodate your changes and suggestions. We ensure you that choosing us will be the One-Stop solution for all your cables and connectivity-related needs. We'll work hard with your team to find the right cable solution for your company's needs and to developing a mutually-beneficial partnership with you and your organization. We look forward to the coming years with confidence and anticipation you can rely on Send-Victory Corp. to be your resource electronic components, computer peripheral cables and any of customize project honor supplier.

Please feel free to contact us today and let us know how we can be of the greatest assistance to you. Let's keep contact no matter we have chance to cooperate now or future.